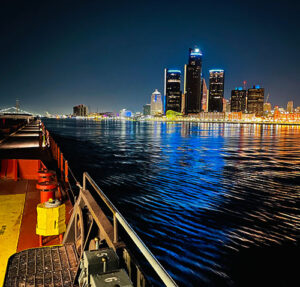 InterShip, a division of Central Marine Logistics, specializes in providing reliable AMS (Automated Manifest System) services to our valued customers.  We play a crucial role in facilitating international trade and ensuring compliance with customs regulations.
As an AMS Service Provider, our primary responsibility is to assist carriers, freight forwarders, and other entities involved in international shipping with the electronic filing of manifests and related documentation required by United States Customs and Border Protection (CBP).  We also act as an intermediary between the shipping entities and CBP, helping them meet the AMS filing requirements accurately and in a timely manner.
Services offered by partnering with InterShip can include:
Manifest Filing: Preparing and submitting electronic manifest data, which includes information about the vessel, cargo, consignees, shippers, and other relevant details. This ensures compliance with CBP regulations and facilitates efficient cargo clearance.
Data Validation: Validating the data provided by the shipping entities to ensure accuracy and completeness. Performing checks to identify any errors or discrepancies that may result in delays or penalties.
Compliance Assistance: Guidance and support to ensure compliance with CBP regulations, such as proper classification of goods, adherence to import/export restrictions, and compliance with security measures.
Communication with CBP: Act as the liaison between the shipping entities and CBP, transmitting the manifest data and other required information to the CBP systems and facilitating communication regarding any inquiries or issues that may arise during the clearance process.
Recordkeeping: Maintaining a record of the manifest data and related documentation for a specified period, as required by CBP regulations. This enables easy access to historical data and supports auditing and compliance efforts.
It's important for shipping entities to collaborate with a reliable and experienced AMS Service Provider to ensure smooth customs clearance and mitigate the risk of non-compliance.
For more information, please contact:
Aaron Bensinger
Tom Wiater