Central Marine Logistics has proven itself to be a trusted partner and reliable provider of real-world solutions in vessel management.  Incorporated in 1998, with our roots tracing all of the way back to the 1930s, we are one of the last operators of true steamships on the Great Lakes.  Our unmatched success in this industry speaks for itself with our longstanding management of the Wilfred Sykes, Joseph L. Block, Edward L. Ryerson and Warner Provider.
As professional mariners and seasoned vessel operators, we understand the unique challenges and responsibilities that come with vessel management.  From technical management and crewing to safety and compliance, we cover all aspects of vessel operations to ensure the highest standards of performance, safety, and environmental sustainability.
Our team of experts, with an average of 30 years of vessel management experience, possess extensive knowledge in areas such as maintenance planning, regulatory compliance, fuel optimization, and voyage planning, enabling us to optimize vessel performance while adhering to industry standards and requirements.
Whether you're a shipowner, operator, or investor, our vessel management services are designed to add value to your operations, optimize your resources, and ensure the highest level of operational efficiency. By entrusting us with the management of your vessels, you can focus on your core business while benefiting from our expertise, industry connections, and commitment to delivering results.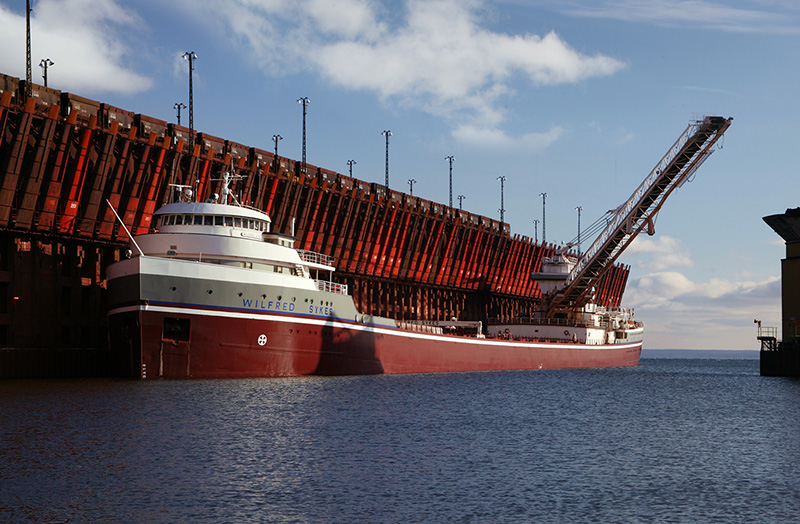 Built by American Shipbuilding Co., Lorain, OH in 1949 for Inland Steel Co., the streamlined bulk freighter Wilfred Sykes was the first new American-built Great Lakes vessel constructed after World War II. At the time of her launch, she was the largest vessel on the Great Lakes. The Sykes is powered by 2 steam turbine engines producing a combined 7,700 horsepower driving an 18-1/2 foot diameter four-blade propeller giving her a speed of up to 16 mph. Being the first steamship built to burn "bunker C" heavy oil for fuel instead of coal, her fuel tanks can hold 165,000 gallons giving her a cruising range of 4,500 miles.
The Sykes was the first Great Lakes vessel built with a 70-foot beam and was also the first laker built capable of carrying in excess of 20,000 tons. She set iron ore cargo records during her first three seasons of operations (1950, 51, & 52).
She is equipped with a 250-foot stern mounted discharge boom that can be swung 90 degrees to port or starboard for unloading.
The Wilfred Sykes continues to be an active member of the Central Marine Logistics fleet, serving the cargo needs of many Great Lakes industries.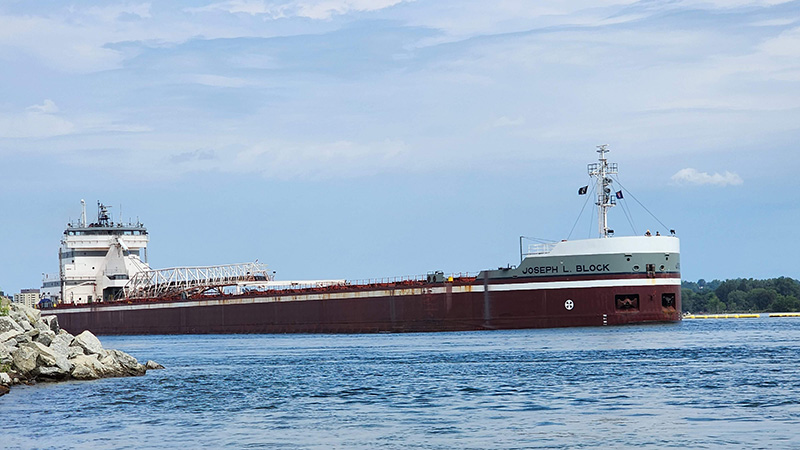 With the keel being laid down in July of 1975, this Great Lakes self-unloading bulk carrier was built by Bay Shipbuilding Co., Sturgeon Bay, WI as hull #715. The new hull was launched February 26th, 1976 and was christened June 29th, 1976 as the Joseph L.
The new vessel's namesake was Mr. Joseph Leopold Block. Born in Chicago on October 6th, 1902; Mr. Block joined Inland Steel in the 1920's becoming an assistant vice president by 1927 rising to Inland Steel's president in 1953. He became Inland's CEO in 1956 and served as their Chairman of the Board until May 1st, 1975. Mr. Block died November 17th, 1992.
The Joseph L. Block is powered by 2 General Motors EMD 20-645-E7 two stroke cycle; single acting, V-20 cylinder 3,600 b.h.p. diesel engines burning marine diesel oil; the power being fed to a single controllable pitch propeller. The vessel's self-unloading equipment consists of a conveyor belt system feeding a loop belt elevator to a stern-mounted 250′ discharge boom and has an unloading rate of up to 6,000 tons per hour.
The Joseph L. Block continues to be an active member of the Central Marine Logistics fleet, serving the many cargo needs of Great Lakes industries.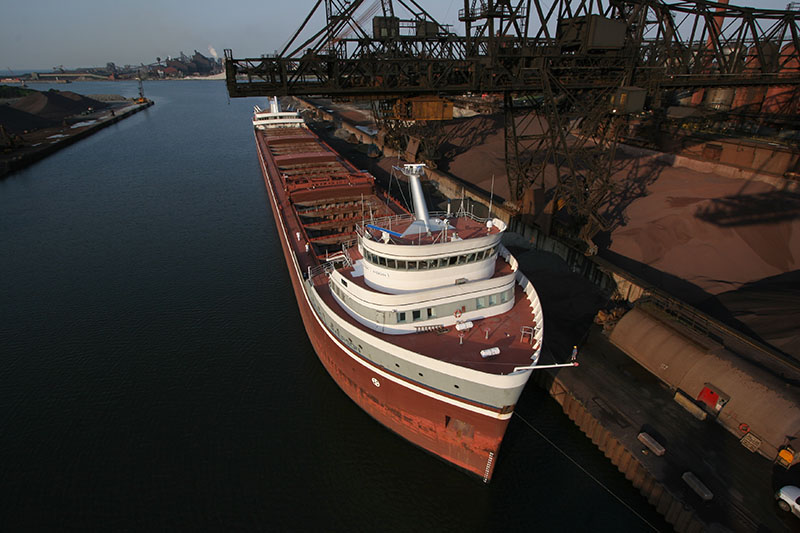 The Edward L. Ryerson, is one of the last remaining straight-deck bulk carriers still part of the American fleet on the Great Lakes. Built as hull # 425 by Manitowoc Shipbuilding Co., Inc. of Manitowoc, WI.  The new steamer was the first of five American-flagged ships to be added to the "730-class" of lake boats in the early 1960's.  The Edward L. Ryerson became the third of thirteen 730′ (222.5m) carriers to eventually share in the "Queen of the Lakes" title for being the longest ships on the Great Lakes.  She was also the second American-flagged vessel to share this honor.
The Edward L. Ryerson would have to classified as the most aesthetically pleasing of all lake boats.  From her gracefully flared bow and top of her pilot house to her large but streamlined stack to her rounded and tapered stern and her striking paint job, no expense or effort was spared during her construction to achieve this goal.  Over $8 million was reported to have been spent on the accommodations alone. 
The Edward L. Ryerson is powered by a General Electric 9,900 maximum s.h.p. (7,385.4 kW) cross-compound steam turbine engine (consisting of a high-and-low pressure turbine) with two heavy fuel-oil fired Combustion Engineering water tube boilers.  The Ryerson is capable of speeds up to 19 m.p.h. earning her the nickname "Fast Eddie" as one of the fastest ships on the Great Lakes.  Dimensionally, the Ryerson could transit the Welland Canal and St. Lawrence Seaway. 
On August 28, 1962; the Ryerson set a new iron ore cargo record when 25,018 tons (25,420 mt) were loaded on board at Superior, WI bound for Indiana Harbor, IN. 
Although the Ryerson is currently in layup status, we continually are exploring all opportunities and avenues to bring it back to active sailing status.
COLOMA L. WARNER & WARNER PROVIDER
Coloma L. Warner
This retractable-wheelhouse tugboat was built in 1955 as the Harbor Ace for the Chicago Towing Company of Chicago, IL. In 1961 she was acquired by the Twin City Barge and Towing Company of Saint Paul, Minnesota and renamed Gopher State. She was sold in 1971 to Tug Leasing Corp. of Wilmington, Delaware and renamed Miss Peggy. In 1973 she was renamed Betty Gale. She was sold again in 1977, to O.L. Schmidt Barge Lines of Lemont, Illinois, and she retained her name. The tug was later transferred to Hannah Marine Corp. of Lemont, and she was renamed Hannah D. Hannah in 1993. In 2010 she was sold to Warner Petroleum of Clare, MI and renamed Coloma L. Warner.
Coloma L. Warner is active in the bunkering trade with the tank barge Warner Provider. She services ports on southern Lake Michigan.
Warner Provider
This barge that is paired with the Coloma L. Warner was built in 1962 by PORT HOUSTON IRON WORKS – HOUSTON TX, U.S.A. Currently sailing under the flag of United States (USA). Formerly also known as HANNAH 2903.