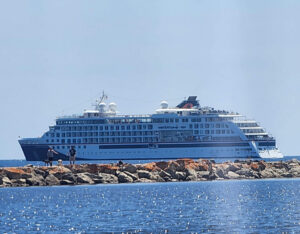 Inter Ship, a division of Central Marine Logistics, proudly provides ship agency services for the best cruise ship lines on the Great Lakes.  We were instrumental when the cruise ships first came to the Lakes twenty years ago.  Today, we are continuing to forge the way to a new golden age of Great Lakes cruising.
While the Great Lakes may not be as commonly associated with cruise ship travel as other major bodies of water, the popularity of cruising on the Great Lakes has been steadily growing.
Cruise ships on the Great Lakes offer a unique and unforgettable way to explore the beauty and splendor of this magnificent region. These ships provide passengers with an opportunity to experience the stunning landscapes, charming coastal towns, and rich cultural heritage that the Great Lakes have to offer.
From the breathtaking beauty of Pictured Rocks National Lakeshore to the architectural marvels of the Chicago skyline, each port of call along the Great Lakes cruise offers a unique blend of history, culture, and natural splendor.  Passengers have the opportunity to explore historic sites, indulge in regional cuisine, participate in guided shore excursions, and immerse themselves in the natural wonders that the Great Lakes region has to offer.
We invite you to embark on a remarkable journey through the Great Lakes aboard one of our partners' exceptional cruise ships. Let them be your guide as you immerse yourself in the awe-inspiring beauty, captivating history, and enchanting culture of this remarkable region. Discover the wonders of the Great Lakes on a cruise that promises memories to last a lifetime.